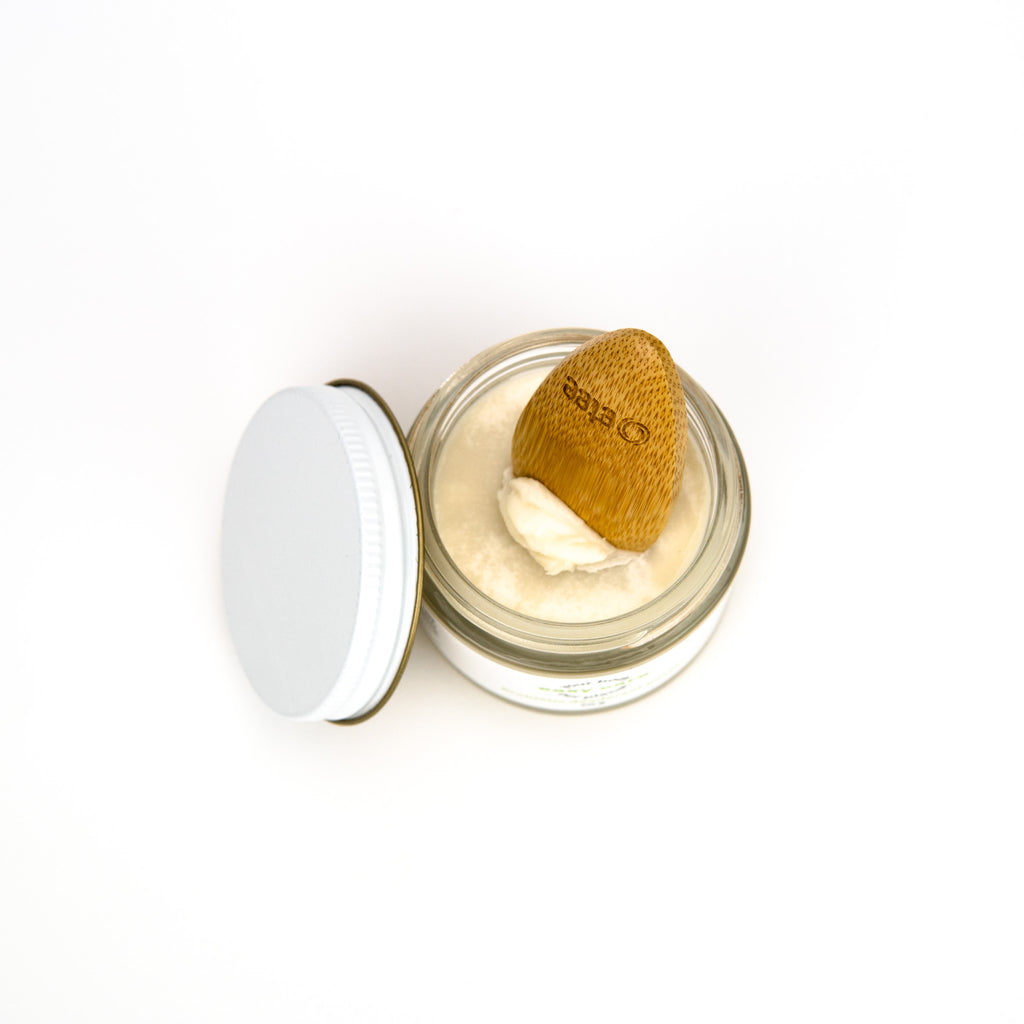 Member Price


$15.00 USD
MSRP $0.00 USD
Prebiotic Deodorant Paste
Prebiotic Deodorant Paste
I had purchased it for my son who says he likes it very much as do I mine.
It works, but it's messy
Well, this does take care of odor nicely, but, This was a miss for me. It's very strong smelling and I didn't like getting it on my fingers. I was persuaded by Steve's email that it could be used in private places, but as a woman, I wouldn't want it anywhere even near my private parts. Sorry Steve!
Thanks for the feedback Penny! We're happy to hear it did the job - but would you prefer an unscented deodorant, or do you have a different scent in mind perhaps?
Pleasantly surprised
I've been searching for plastic-free natural deodorant for years. I was ready to accept that I'd just have to be a little stinky some times, and occasionally struggle with poorly designed cardboard applicators.
I got this little jar of amazing a week ago. It's incredible! I spent last weekend painting two dressers. Outside. In July. And thanks to this deordorant I didn't smell like a pirate.
The scent is lovely but not aggressive or overpowering. The jar is easy to use. I think I finally found MY deodorant.
Great Deodorant
My husband has been searching for a deodorant that didn't give him a rash- not sure what he is sensitive to, but other deodorants don't work for him, but the prebiotic deodorant is the first one in a long time that hasn't bothered him. And it does what he needs it to do! Thanks for a great product!
Amazing paste!
I love the prebiotic deodorant paste. It seems to turn dry as you rub it on. No greasy feel or holding your arms up until it's dry. And it works! I was recently in hospital for a week with a badly broken leg and only giving myself sponge baths at the bedside. I was complemented on the 'lemony smell' in the room when the nurse came back and another nurse got the details from me and plans to order from etee.
YOUR BODY | OUR PLANET
*bamboo spoon not included
Our *NEW* Prebiotic Deodorant Paste is aluminum-free and lightly scented with a blend of bergamot pine and citrus. It is made of natural ingredients and prebiotics. Prebiotics combat odour by feeding 'microbiota' (the naturally occurring bacteria under your arms)  its active ingredient instead of fatty acids and the result creates less malodorous molecules so you stink less.. By using these natural ingredients instead of the chemicals found in regular deodorants your sweat glands will not clog up, allowing the prebiotics to fully do their job. It is also enriched with shea butter to help keep your pits soft and smooth. It is 70gms or 2.5oz
WHY DEODORANT PASTE?
We chose a paste format because our research found that the paste format was more effective than a traditional stick.  Why?  It seems to be because of the higher melting point required to keep the stick solid.  The lower melting point of a paste or lotion allows the ingredients to absorb more easily into your skin and do their thing to keep you fresh all day.
We chose to ditch the PEG and baking soda in this one - common ingredients found in leading deodorants known to cause skin irritation.
*Note. This is a deodorant, not an antiperspirant - so a feeling of 'wetness' is normal. 
What's Inside?
Prebiotics to help with odour and bacteria

Moisturising Shea Butter

Reusable Glass Jar 

Woody & Citrus Scent
What's Not Inside?
Animal Testing

Aluminium, Baking soda, Palm Oil, PEG

PLASTIC OF ANY KIND!
HOW TO USE YOUR DEODORANT PASTE
Scoop out the desired amount, warm it between your fingers and gently rub it into your armpits as needed.
*For External Use Only. Discontinue use if rash or irritation occurs. Keep out of reach of children and pets!

INGREDIENTS:

 

Maranta Arundinacea Root Powder, Cocos Nucifera (Coconut) Oil, Hydrogenated Vegetable Oil, Butyrospermum Parkii (Shea) Butter, Zinc Ricinoleate, Dicaprylyl Carbonate, Coco-Caprylate, Coco-Caprylate/Caprate, Caprylic/Capric Triglyceride, Citrus bergamia, Glycerin, Morinda Citrifolia Callus Culture Lysate(Active Prebiotic Ingredient), Water, Citric Acid, Maltodextrin, Pinus Sylvestris, D-Apha Tocopherol